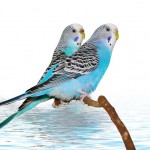 North Memorial Animal Hospital is now seeing select small breed birds!
Dr. Harrington will be treating:
Conure – Blue-Crowned, Sun, Half-moon, Maroon (red) bellied, Nonday
Lovebirds – peach faced
Cockatiel
Parakeet – Standard Budgie, Grey-Cheeked, Quaker (Monk)
Finch – Zebra & Lady Gouldian
Our hospital will be providing Exams, Beak trims, Wing trims and Nail trims for birds. Please transport your pet ideally in it's own cage with a blanket and/or towel covering it. Please do NOT clean the cage prior to the appointment, as this will give the Doctor an indication of the birds overall health. Birds are sensitive to temperature, drafts and stress, all of which are involved in a vet visit.
For more information or questions please call our office.