We are still taking serious precautions to safeguard you, our client, as well as our staff. This means that there are some new things for you to consider when making your pet's next appointment. Please review the following helpful appointment guidelines:
🐾 Only one client will be permitted in the building per pet's appointment/ medication or food pick up. We do miss your whole family though, and look forward to when everyone can join in the fun.
🐾 Masks/face coverings will be required, but luckily only for the humans. We learned the hard way – cats don't like masks. And since so many masks tragically perished in the Cat/Mask Battle of 2020, you'll have to provide your own (Sorry).
🐾 Be mindful of social distancing guidelines – 6 feet apart. We know our receptionist is cute, but no she doesn't want your phone number, or COVID19. We'll have helpful floor markers for you. Also, we have waterguns to enforce this policy with reckless abandon.
🐾 Need food? Prescriptions? Don't want to put on pants? No problem! You can visit our online pharmacy any time ( just click on the home page and scroll down) Or, if you have pants, you can abide by the previously mentioned guidelines and we'll be happy to help you in clinic. Or you can place your order by phone and we'll run them out to the car (please wear pants). Just give us a call to place your order and pay by phone @ 724-656-0980!
🐾 We will also continue to offer curbside appointments, and drop off appointments for those who are not comfortable coming into the hospital.
All kidding aside, we really can't wait to have you back. We are very blessed to have been able to remain fully functional during the pandemic to serve the community and pets we love. We sincerely appreciate all your patience, and patronage as we have navigated the pandemic. We hope we can continue to provide excellent, compassionate service to you and your pet, and we look forward to seeing you, socially distant and in a mask, soon.
Effective 5/1/2020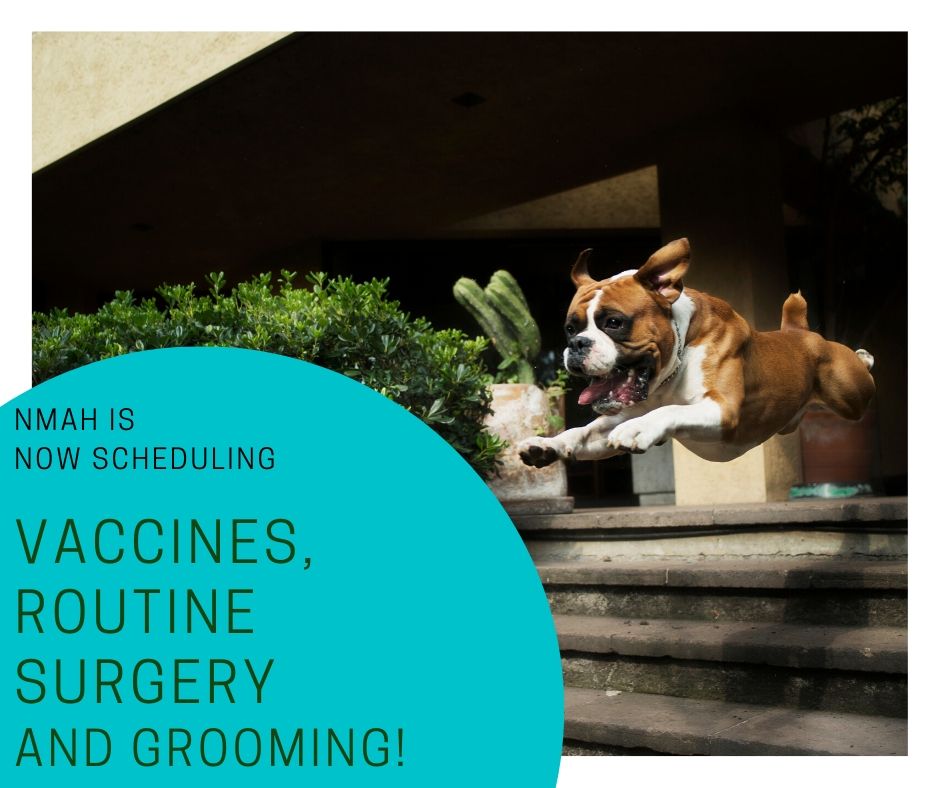 Normal business hours will resume May 11th 2020
Effective 3-25-20
We will have new office hours effective today.
Monday: 9:00am – 5:00pm
Tuesday: 12:00 pm – 5:00pm
Wednesday: 9:00am – 2:00pm
Thursday : 12:00pm – 5:00pm
Friday: 9:00am -5:00pm
T
Effective 3-20-20
As of yesterday Governor Wolf has ordered all non-life sustaining businesses to close as of 8pm last night (March 19th 2020) and will start with enforcement of this on Saturday (March 21st 2020). Fortunately, veterinary hospitals have been deemed an essential, life-sustaining business so we will remain open to care for your pets. While we are allowed to remain open, we have been mandated to cancel/reschedule all non-essential appointments. This is in an effort to help conserve medications and medical supplies, and also to help slow the spread of this virus. Because of this our hospital will be cancelling/rescheduling all non-emergency procedures including but not limited to: wellness & yearly vaccines, nail trims, routine surgeries such as spays and neuters, and all grooming services. We are very happy that we will be able to continue to treat your pet's emergencies. We ask during this time you help to screen what would be a true emergency for your pet since you know them the best. Our phones have had an extreme amount of calls and we ask for your patience while we do our best to care for all of our patients.
Our hospital will continue to operate on a curb side basis, only allowing staff inside the building. We ask that all clients stay in their car and call the office. Our staff will address your needs and bring anything you need out to your car. All appointments will be seen without owners in the building and our doctors will communicate via phone. We feel that this is the best way we can help our community, both by stopping the spread of the virus and continuing to help pets in need.
Please be patient during this unusual time. We have a huge volume of calls and try to be as efficient as possible and help as many pets and clients as we can. Thank you to all of our clients who have been understanding while we work out the kinks in our new and ever changing work environment.
North Memorial will be posting updates on our website and all of our social media outlets as this is an ever changing situation. We are closely monitoring the situation via the Centers for Disease Control, the World Health Organization, and the Pennsylvania Veterinary Medical Association.
Effective: 3-17-20
At North Memorial Animal Hospital, the health and safety of our patients, staff, and community is our number one priority. Please be assured that while we are taking extra precautions to reduce the spread of COVID-19 (coronavirus), we are still committed to providing the exceptional care you have come to expect for your pet.
To protect the health of our employees and the clients we serve, we have made several adjustments to our operations to ensure your visit is as safe as it can be. Please know that these policy updates may have a slight impact on our availability to see patients. At this time, NMAH remains fully operational and is actively providing modified care to our patients. Rest assured that we are closely following the Centers for Disease Control (CDC) guidelines, American Veterinary Medical Association (AVMA) guidelines, and state mandates to develop our strategies.
For Clients with Previously Scheduled Appointments:
• If you are sick with a fever or respiratory signs, please postpone your scheduled appointment to a later date.
• If you are healthy and have not traveled to a CDC designated high-incidence area in the past two weeks, we ask that you please wait in your car during your appointment. We will meet you in the parking lot and explain the process, answering any questions you may have. We will then take your pet into NMAH and keep you informed via phone.
• Please be advised that you will be asked the following questions upon arrival.
In the past two weeks:
1. Have you had a fever?
2. Have you been coughing?
3. Have you had direct contact with person infected with or suspected of COVID-19 in the past 2 weeks?
• If you answer yes to any of the above questions, you will be asked to please make every effort to find a healthy person to bring your pet to the hospital.
What Clients Should Do When They Arrive at The Hospital with Patients:
Please call 724-656-0980 to let us know you are in our parking lot. We ask that you please remain in your vehicle with your pet. When you call, a receptionist will answer and transfer you to your technician if they are available. If they are not available, they will call you back to discuss your pets needs for the appointment.
At the end of the phone conversation, a team member will meet you at our front entrance and an additional slip leash will be placed on your pet. This ensures safe transfer of your pet to the team member to bring them in the building for evaluation. All cats must be in a carrier prior to leaving the car– No Exceptions!
After the doctor examines your pet, you will receive a phone call to discuss recommendations and a plan moving forward. This plan and costs associated will be reviewed with you so that you can make an informed decision. Verbal consent for treatment and details surrounding financial estimates will be authorized via this phone call.
Updates will be given regularly via phone by your medical team.
Once the care of your pet is complete, the discharge process will begin. You will receive a phone call from a receptionist to obtain payment. A credit card or care credit are preferred methods of payment during this time, but we can also accept cash or check.
At this time, please feel free to take advantage of our curbside pickup options for medications and food. We also have an online pharmacy for your pet's medications and food needs that can be delivered to your door within 1 – 3 days. Follow this link: https://northmemorialanimalhospital.securevetsource.com/site/view/site/view/HomeDelivery.pml?retUrl=http://www.nmahonline.com
This is an ever-changing and evolving situation as new information and mandates are updated frequently. Please feel free to reach out to us at 724-656-0980 if you have any questions. We pray for our community and our country as we all make these changes to keep each other safe. It is important that we all attempt to minimize transmission and reduce the chance of infecting others.
For regular updates on NMAH 's COVID-19 policies and operational status, please check our Facebook page or here on our website.
The Centers for Disease Control has a comprehensive website with general information and more about COVID-19 and animals: https://www.cdc.gov/coronavirus/2019-ncov/faq.html