Dr. Maureen Altman, Owner: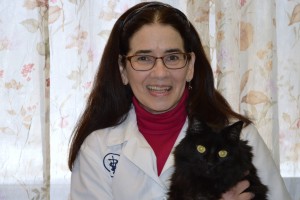 From a young age, Dr. Altman was driven to become a Veterinarian. She is passionate about caring for God's creatures and helping their human companions give them the best possible life. Her goal with every patient visit is to make the pet healthy and happy, as comfortable as possible and educate their people on how to best care for them
Dr. Altman grew up in the New Castle area and attended Neshannock School. She graduated from Penn State University after receiving BS degrees in Animal Science and Microbiology. Dr. Altman received her Masters degree from Youngstown State University, concentrating in cardiovascular physiology. After attending the University of Pennsylvania in Philadelphia she received her VMD degree in 1987. She opened this practice in 1996. Dr. Altman has two sons and they share their home with a dog and a horse. In her spare time she enjoys hiking, biking, traveling, horseback riding and reading.
Dr. Altman lives by the philosophy: Never give up and always do your best!
Dr. Erin Snyder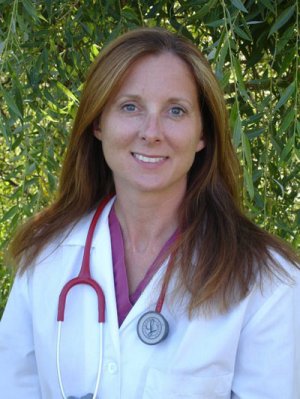 Dr. Snyder was raised in Wasilla, Alaska. After attending Simpson College in Indianola, Iowa, she graduated with her DVM from Iowa State University in 1996. She joined North Memorial Animal Hospital in July of 1999. Dr. Snyder enjoys reading, gardening, boating and watching the Steelers. Dr. Snyder and her husband are blessed with two children and they share their home with several cats.
Dr. Janelle Hoffman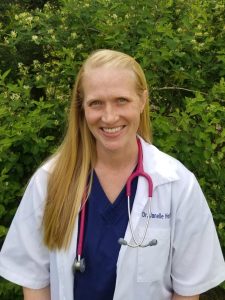 Dr. Hoffman grew up on her family's dairy farm surrounded by plenty of Holstein cattle, farm dogs & cats, and horses. Because of this, she has always loved being around animals. She has a passion for helping people and has a strong interest in medicine and science, veterinary medicine is the perfect fit for her! Dr. Hoffman's goal with every patient visit is to help the owner and their pet feel comfortable. She also wants to make sure the owners understand the reasoning behind any recommendations or treatment plans for their pets.
Dr. Hoffman's favorite part of the job is developing long-term relationships with pets and their people and helping owners to provide the best care for their pets. At home Dr. Hoffman and her husband James are busy with 3 young sons and 3 Labrador retrievers; Bella a chocolate lab, Honey a yellow lab, and River a black lab.
Dr. Hoffman lives by the mantra: Treat others as you want to be treated – Matthew 7:12/the Golden Rule.
Dr. Nicole Palumbo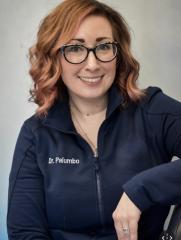 Dr. Palumbo graduated from the University of Illinois Veterinary College in 2012, she enjoys dermatology, dentistry, and has a special interest in feline care. She has loved animals since she was a child and gravitated towards science in school. Learning to figure out how animals are speaking to us about their illness is one of the most rewarding aspects of veterinary medicine. Her goal with every patient visit is communication. She wants to understand what is going on with the pet and why we are suggesting certain diagnostics. Dr. Palumbo believes that every animal should have the same opportunities for good health. Her favorite part of the job is finding answers for the pet and the owners. Even if the answer is euthanisia – knowing we did everything we could for a patient makes is all worth it. Dr. Palumbo shares her home with her husband John; 10 cats ( Fluff, Nanners, Gene, Plimpton, Fig, Newton, Roo, Tripod, Thomas & Bruce) and 3 dogs ( Jelly, Cashew & Pamela)
Dr. Palumbo's philosophy is: Change is the only constant in life – we all have to adapt and go with the flow.