What to do if you find a dog:
Bring the pet to your nearest veterinary office or shelter to have scanned for a microchip.  This is a free service.
If the dog has a license on it's collar, call the Lawrence County Treasurer's office non emergency number
   Monday – Friday 8:00 to 4:00 – 724-656-2123
             After hours & weekends – 724-656-9300
Contact local shelters to see if anyone has reported a lost or missing pet
The New Castle News will run a "found" dog add for free – Contact them at 724-654-6651
Internet Links: 
North Memorial Animal Hospital is aware of the vast amount of information available on the internet.  Our team has taken the time and evaluated the following sites.  We trust the information the listed websites provide to you, our client, and member of our family.
Veterinary Partner Pet Library
American Animal Hospital Association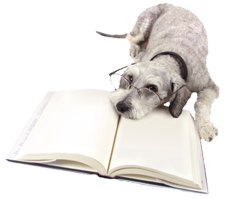 www.aaha.org
American Board of Veterinary Practitioners
www.abvp.com
American College of Veterinary Internal Medicine
www.acvim.org
American Kennel Club
www.akc.org
American Veterinary Medical Association
www.avma.org
Association of American Veterinary Medical Colleges
www.aavmc.org
Agility Information
www.cleanrun.com
Center for Veterinary Medicine- U.S. Food and Drug Administration
www.fda.gov/cvm/